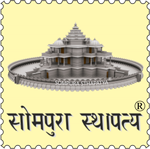 Temple Architect And Contractor
About Us
The Legacy of Sompura
प्रभासेह्युत्पतिर्यस्य शिल्पकर्म प्रदायिना |
सोमपुरा ज्ञाति रुपोहि देह: श्री विश्वकर्मण: ||
प्रभास क्षेत्रमे जिनकी उत्पति हुई है, एसे शिल्पकर्म के ज्ञाता सोमपुरा विश्वकर्मा स्वरूप है ।
Sompura, the knower of Shilpa Karama, which originated in the Prabhas Kshetra, is himself a form of Vishwakrama.
Sompura Shilpi Brahmin – As per Skand Puran Lord Chandra (Som) organized Som Yag to remove the curse given by Daksha Prajapati at Prabhas Kshetra (present Somnath) are in Saurastra – Gujarat. He was invited Eighteen Gotras of Agnihotra Brahmins from Chandra-Lok to perform Som Yag and to build Mahameru Prasad for the Lord Somnath (Shiva). These Brahmins were identified as Sompura for the completing the work of Som (Chandra). Eleven gotras from eighteen gotras of Sompura practicing as a temple architect with shilp Shastra and remaining seven of them offer their priest services in Somnath temple. Sompura Shilpi follows their famous ancestors like Sutradhar Shrikheta, Mandan Sutradhar, Sutradhar Natuji, Sutradhar Govind, Sutradhar Virpal, Sutradhar Ganesh, Sutradhar Rajsinh, Shipshastri Narmadashankar, Sthapati Prabhashankar Oghad etc. Northern India's famous temples and monuments like Somnath, Delwara, Ranakpur, Kiradu, Dwarika, Khajuraho, Chittorgarh, Kumbhalgarh fort, many known – unknown temples, forts and palaces are examples of Sompura's architecture and craftsmanship ability.
About Sompura Sthapatya
Sompura Sthapatya is engaged in traditional temple construction industry. Specialization in the restoration of temples to follow norms of Jirnoddhar, restoration of monuments like palaces, forts, stepwells with ancient lime mortar technology. The promoters of Sompura Sthapatya belongs to the famous Sompura community.
Balbhadra Upadhyaya (Sompura) – He has a 20 years of experience in temple architecture field. He is an ardent knower of Vastu Shilp Shastra. He has also specializes in Indian Vedic traditions like Jyotish, Murhat Shastra and rituals of temple architecture. He was adopting the cad technology in very early stage. Balbhadra have a passion for the Indology and he is doing research to preserve our ancient Indian construction technology Vastu Shilp Shastra. In present time very few persons have knowledge of ancient lime mortar construction and Vajra Lepa, Balbhadra is one of them.
Het Upadhyaya (Sompura) – Young passionate Sompura has master in Cad – Cam and 3D technology. He studied basic Vastu Shilp Shastra and art of temple designing to carry the legacy of the family. He is independently handle the manufacturing and design units of Sompura Sthapatya.
Note: Sompura Sthapatya is using only Licence Software or Open Source Software.
Some of our Completed Projects
Shree Bhagavadachary Samadhi Deri – Ahmedabad
Shree Ashapura Mata Temple - Bela, Kutch
Shree Kshetrapal Dada Temple – Bela, Kutch
Shree Nandeshwar Mahadev Temple – Bilasiya, Gujarat
Shikhar work of Shree Savaliyaji Temple – Bagund, Rajasthan
Shree Shiv Temple – Uttam Galva Steel, Khapoli, Maharastra
Shree Santoshi Mata Temple – Navade, Navi Mumbai
Shree Ansuya Mata Temple – Ghantiyari, North Gujarat
Shree Durga Mata Temple – Grasim Ind., Vilayat, Gujarat
Shree Gullama Devi Temple – Ghadihalli, Karnataka
Shree Bhutnath Mahadev Temple, Fulgram, Gujarat
Shree Chamunda Mata Temple – Changa, North Gujarat
Shree Shiv Temple – Sadhakpur, Gujarat
Shree Brahmani Mata Temple – Ghantiyari, North Gujarat
Gate of Shree Shiddh Hanuman Temple – Anjaneri, Maharastra
Shree Shiv Temple – Indian Reyon, Veraval , Gujarat
Restoration of Fort Wall (lime mortar), Bhujiya Hill – Bhuj, Kutch
Copyright © 2020 All rights reserved.
Sompura Sthapatya
FF/3, Limbani Complex, Iskcon Bopal Road, Ambli,Ahmedabad - 380 058.Contact: +91 99798 89837 Email: balbhadra@sompura.in