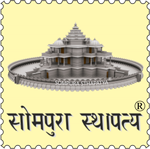 Temple Architect And Contractor
Welcome to the world of classical Indian Architecture
Temple construction is basically depends on Vastu Shilp Shastra and without using steel reinforcement. In the western part of India Sompura families are involved in raditional Temple construction, Palaces, Step Wells, Forts, and also preserving the typical art of Vastu Shilp Shastra (the construction manual of ancient Indian Architecture) since the centuries. Our company Sompura Sthapatya is one them from the Sompura families.
Sompura Sthapatya is engaged in temple construction industry. We provide temple architecture and construction services with following the norms of ancient vastu shilp shastra. (followed by Aparajit, Xiranav, Diparnav, JayPruchha, Prasad Mandan, Shilp Ratanakar, Maymat and puranos ect.) With the calculation such as Aay, Nakshatra, Directions, Vyay etc. and followed vastu-shilp norms from the beginning of the temple i.e. Shila Ropan to end of temple construction i.e. Pratistha pooja. Our specialty is not only in Vastu base designing but also in carving, fitting and finishing of stone, marble or granite and without using steel reinforcement to built Indian typical temple, that means we offered full solution of Temple construction. Sompura Sthapatya manufactured custom made stone, marble interior decorative articles and garden ornamental artefacts. We have a state of the art computerize design facility which can provides services like 3D walkthrough of temple and other construction projects. Providing Vastu shilp remedies for temple projects, home, commercial and industrial projects also.
Copyright © 2020 All rights reserved.
Sompura Sthapatya
FF/3, Limbani Complex, Iskcon Bopal Road, Ambli,Ahmedabad - 380 058.Contact: +91 99798 89837 Email: balbhadra@sompura.in